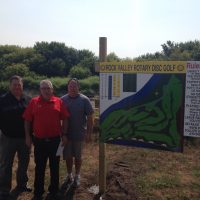 A 12-HOLE DISC GOLF COURSE HAS OPENED AT THE RIVERS BEND CAMPGROUND ON THE NORTHERN EDGE OF ROCK VALLEY. FOLLOWING THREE YEARS OF CLEANUP EFFORTS AFTER THE FLOOD IN ROCK VALLEY, THE CEREMONIAL FIRST SHOT TOOK PLACE ON TUESDAY. ROCK VALLEY MAYOR KEVIN VAN OTTERLOO SAID THE COURSE IS THE CULMINATION OF THE EFFORTS OF MANY TO RECLAIM THE ENJOYMENT OF LIFE IN ROCK VALLEY. .
THE COURSE WAS DESIGNED BY NIEL RANSCHAU, AND WAS SCHEDULED TO OPEN IN 2014, BUT AFTER THE ROCK RIVER FLOODED, THE COURSE WAS COVERED IN SAND AND DEBRIS HE SAID THE COMMON PLACE CHURCH LED BY KURT FRANJE TOOK UP THE RESPONSIBILITY, AND DONATED THEIR TIME AND EQUIPMENT TO CLEAR OUT THE UNDERBRUSH AND RECLAIM THE AREA.
THE ROCK VALLEY ROTARY CLUB DONATED BASKETS USED FOR HOLES, AND STUDENTS ENROLLED IN ROCKET MANUFACTURING MADE SIGNS FOR EACH TEE BOX.