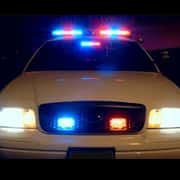 SIOUX FALLS, S.D. (AP) – SEVERAL LAW ENFORCEMENT AGENCIES HAVE ENDED THEIR SEARCH FOR THE SUSPECTS ACCUSED OF LEADING OFFICERS ON A CHASE FROM IOWA TO SOUTH DAKOTA AND INJURING A LYON COUNTY SHERIFF'S DEPUTY.
THE SEARCH WEDNESDAY WAS CENTERED IN SIOUX FALLS. POLICE SPOKESMAN SAM CLEMENS SAYS THE CHASE BEGAN AROUND 9:30 A.M. IN LARCHWOOD, WHEN DEPUTIES SAW A MAN DRIVING A STOLEN VEHICLE FROM HARRISBURG. THE SUSPECT STRUCK THE SQUAD CAR OF THE LYON COUNTY SHERIFF'S DEPUTY, SENDING THE OFFICER TO THE HOSPITAL.
AUTHORITIES SAY THE STOLEN PICKUP WAS FOUND IN A BUSINESS PARKING LOT IN SIOUX FALLS, BUT THE SUSPECTS ESCAPED.
OFFICERS FROM SIOUX FALLS, THE MINNEHAHA COUNTY SHERIFF'S OFFICE AND SOUTH DAKOTA HIGHWAY PATROL SET UP A PERIMETER TO LOOK FOR THE SUSPECTS, BUT AUTHORITIES ENDED THE SEARCH AROUND 3 P.M. THE SOUTH DAKOTA HIGHWAY PATROL ASSISTED ON THE GROUND AND IN THE AIR WITH BOTH A DRONE AND THEIR PLANE. CLEMENS SAID THE VEHICLE WILL BE PROCESSED TO LOOK FOR FINGERPRINTS AND ANY OTHER EVIDENCE THAT MAY LEAD THEM TO CONFIRM THE IDENTITIES OF THE POTENTIAL SUSPECTS.
AT THIS TIME POLICE DO NOT BELIEVE THERE IS A THREAT TO THE PUBLIC.
THE SUSPECTS ARE DESCRIBED AS ABOUT 5 FEET 9 INCHES TALL AND 160 POUNDS AND 6 FEET 4 INCHES AND 215 POUNDS. BOTH ARE BELIEVED TO BE WHITE MALES.
ANYONE WITH INFORMATION SHOULD CALL CRIME STOPPERS AT (605) 367-7007.
THE LYON COUNTY SHERIFF'S DEPUTY WHOSE VEHICLE WAS HIT IS DOING OK. HE HAS BEEN RELEASED FROM THE HOSPITAL. THE PATROL CAR HAS ABOUT $2000 WORTH OF DAMAGE.