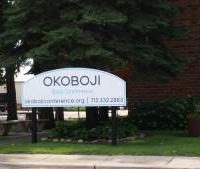 THE OKOBOJI BIBLE CONFERENCE GETS UNDERWAY THIS SATURDAY AND CONTINUES THROUGH AUGUST 13TH ON THE GROUNDS ON BROADWAY STREET IN ARNOLDS PARK. ORGANIZER RICK PORTER TELLS KUOO NEWS THE THEME THIS YEAR IS "EMBRACE HIS WORLD". PORTER SAYS SEVERAL KEYNOTE SPEAKERS FROM AROUND THE COUNTRY WILL BE SPEAKING ON THAT TOPIC…
"A FELLOW FROM OMAHA WHO WORKS IN NORTH OMAHA IN SOME TOUGH COMMUNITIES JUST LOVING PEOPLE, RON DOTZLER IS COMING; TWO FELLOWS FROM NEW YORK, CALVIN WALKER AND RON WALBURN, BOTH HAVE WORKED IN THE CITY OF NEW YORK CITY AND SOME CHICAGOANS, PLUS SOME LOCAL FOLKS AS WELL, SO IT'S QUITE A BLEND OF PEOPLE TALKING ABOUT EMBRACING GOD'S WORLD."
SEVERAL CHRISTIAN MUSICIANS WILL BE ON HAND AGAIN THIS YEAR AS WELL.
"THE FIRST NIGHT WE HAVE AUDREY ASSAD WITH US. SHE'S A DAUGHTER OF A SYRIAN REFUGEE. SHE SERVED MUSICALLY IN VERY DIVERSE OPPORTUNITIES IN THE CHURCH. I WON'T DETAIL THEM BUT SHE COVERS THE GAMUT OF CHRISTIAN CONNECTION. SHE'S YOUNG AND YET SHE HAS A DEPTH AND EVEN AN ALBUM WHICH KIND OF MAKES HER BRIDGE THE GENERATIONS. AND THEN TOWARD THE END OF THE WEEK THE ANNIE MOSES BAND. THEY'RE FILLED WITH ENERGY. THEY USE STRINGS AND VOCALS AND THEY'RE A FAMILY. AND THEN THE LAST NIGHT, WHICH IS AUGUST 13TH, WE HAVE THE ISAACS FAMILY. THEY'RE KIND OF SOUTHERN GOSPEL, BLUEGRASS, BUT THEY ALSO APPEAL ACROSS THE GENERATIONS."
PORTER SAYS THE CONFERENCE TYPICALLY BRINGS THOUSANDS OF PEOPLE TO THE AREA EACH YEAR OVER THE COURSE OF IT'S RUN.
"WE USUALLY HAVE 800 TO 1,000 EVERY NIGHT. SOMETIMES THE CONCERTS DRAW QUITE A BIT MORE THAN THAT. BECAUSE PEOPLE DON'T REGISTER AND STAY ALL WEEK, SOME DO AND STAY ALL WEEK, BUT WE DON'T HAVE REQUIREMENTS FOR REGISTRATIONS SO FOLKS CAN JUST DROP IN. SO WE THINK IN THE COURSE OF THE WEEK WE USUALLY SEE MAYBE 5,000 DIFFERENT PEOPLE. WE DON'T MEET THEM ALL, BUT WE SEE THEM AND WELCOME THEM."
YOU CAN FIND A COMPLETE SCHEDULE OF EVENTS FOR THIS YEAR'S CONFERENCE AT okobojiconference.org. THIS MARKS THE 83RD YEAR FOR THE EVENT.
(Story Courtesy of KUOO News)