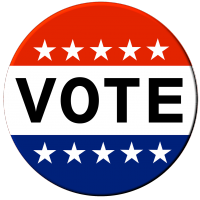 VOTERS WILL HAVE THE OPPORTUNITY TO CAST THEIR VOTES FOR THE BOARD OF EDUCATION ELECTION SCHEDULED FOR TUESDAY. MANY OF THE SCHOOL DISTRICTS WITHIN SIOUX COUNTY, HAVE INCUMBENTS RUNNING UNOPPOSED.
THERE IS A CONTESTED RACE IN SIOUX CENTER, AND WEST SIOUX VOTERS WILL VOTE ON A PUBLIC MEASURE TO CONTINUE THE PHYSICAL PLANT AND EQUIPMENT LEVY. POLLS WILL OPEN AT 7A.M. AND WILL CLOSE AT 8:00 P.M. IN SIOUX CENTER, AND HAWARDEN.
POLLS OPEN AT NOON AND CLOSE AT 8:00 PM: IN BOYDEN, HULL, ALTON/GRANVILLE(POLL PLACE IS ALTON), HOSPERS, MAURICE, ORANGE CITY 1 & 2, ROCK VALLEY, AND IRETON.