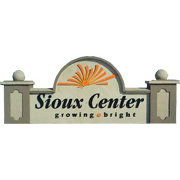 THE BEST BID TO BUILD THE COMMUNITY'S NEW WASTEWATER TREATMENT PLANT CAME IN $1 MILLION LESS THAN THE ENGINEER'S ESTIMATE FOR CONSTRUCTION.
THE CITY OF SIOUX CENTER RECEIVED THREE BIDS ON THE PROJECT TO UPGRADE THE TREATMENT FACILITY TO MEET NEW, MORE STRINGENT DNR STANDARDS AND REPLACE MOST OF THE AGING FACILITY.
GRIDOR CONSTRUCTION, INC., OF BUFFALO, MINNESOTA SUBMITTED THE LOWEST BID AT $22.5 MILLION.
"WE ARE PLANNING ON AWARDING THIS BID AT OUR OCT. 19 CITY COUNCIL MEETING," SAID UTILITY MANAGER MURRAY HULSTEIN. "OUR ENGINEER HAS WORKED WITH THIS COMPANY BEFORE AND IS PLEASED WITH THEIR WORK. THIS BID IS A POSITIVE START TOWARD COMPLETING THIS PROJECT WITHIN BUDGET."
CONSTRUCTION IS SET TO BEGIN BY THE END OF THIS YEAR OR EARLY NEXT YEAR, WITH PLANS FOR THE PLANT TO BE OPERATIONAL IN MID-2020. THE NEW PLANT WILL BE BUILT ADJACENT TO THE EXISTING WASTEWATER PLANT, SOUTHEAST OF SIOUX CENTER, WHICH WILL REMAIN IN OPERATION UNTIL THE NEW PLANT IS COMPLETE.