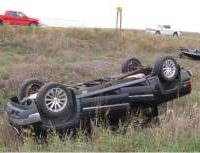 A SINGLE-VEHICLE CRASH MONDAY ON HIGHWAY 60 JUST EAST OF ALTON SENT TWO PEOPLE TO THE HOSPITAL.
THE SIOUX COUNTY SHERIFF'S OFFICE SAYS 34-YEAR-OLD TRAVIS ANDERSON OF LINCOLN, NEBRASKA WAS DRIVING A PICKUP, PULLING A TRAILER CARRYING A BOAT SOUTHBOUND WHEN THE TRAILER DETACHED FROM THE VEHICLE, CAUSING THE DRIVER TO LOSE CONTROL. THE VEHICLE AND TRAILER WENT INTO THE DITCH. THE VEHICLE ROLLED, COMING TO REST ON ITS TOP. ANDERSON AND A PASSENGER, 29-YEAR-OLD CARA ANDERSON OF LINCOLN, NEBRASKA, WERE BOTH TAKEN BY AMBULANCE TO THE ORANGE CITY HOSPITAL FOR TREATMENT OF MINOR INJURIES.
ABOUT $15,000 IN DAMAGE WAS ESTIMATED TO THE VEHICLE. NO DAMAGE WAS REPORTED TO THE BOAT AND TRAILER.
THE SHERIFF'S OFFICE WAS ASSISTED BY THE ALTON AMBULANCE AND ALTON FIRE DEPARTMENT.