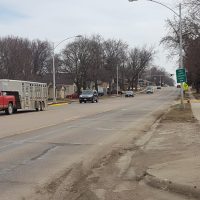 Members of the Iowa Department of Transportation commission visited Sioux Center this week to take an in-person look at the condition and congestion on Highway 75.
Their tour was part of a visit to northwest Iowa, including a commission meeting in Orange City, where Sioux Center leaders spoke to them about improvement plans for the highway.
City Manager Scott Wynja says they reiterated their concerns about the condition of the pavement and underlying pavement's age, and the congestion with continued growth in Sioux Center.
City staff spoke with DOT staff about improving the highway, making it an enhanced four-lane roadway through Sioux Center with a central turning lane and medians.
Sioux Center Utility Manager Murray Hulstein says city staff see the issues and hear the concerns citizens have regarding the condition of Highway 75, so they're pushing the DOT harder to move forward.
Sioux Center city leaders continue to seek DOT funding to update the portion of the highway that also is Sioux Center's main street.
Since this road serves both local and US Highway travelers, Murray says improving its ability to handle vehicle and pedestrian traffic safely is a priority, especially as Sioux Center continues to grow.