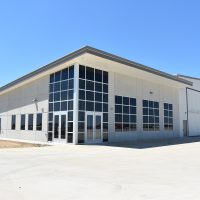 The 5500 foot runway for the Sioux County Regional Airport is nearly complete.  Crews are currently laying the final strip; bringing the airport even closer to completion.
Construction of the terminal is complete and ready to be furnished.  It features a modern, airy design – a classy welcome for pilots, business people, and other travelers.  Sioux County Regional Airport board chairman, Harold Schiebout says that private fundraising has allowed the terminal's design to go several steps above what it would have been.
Another feature of the new airport is a Medium-intensity Alignment Lighting System (MALSR) with Runway indicator lights near the south end of the runway.  These are sequenced, fog-piercing lights used to direct pilots landing in situations like low clouds.  A parallel taxiway runs parallel to it and is a significant safety feature that allows planes to immediately exit the runway after landing.
The airport also features two large hangars and two multi-plane hangars.  All 24 hangar rental spots are already spoken for, but several private hangars are being built as well.  Schiebout says the airport will have the ability to house about 35 airplanes on a regular basis.
The Airport will provide charter services, hangar space, parking, aircraft rental, maintenance, and more.  It will have capacity to accommodate everything from single-propeller airplanes to business jets, and could ultimately employ up to 15 people.
The Sioux County Regional Airport is a joint effort by Sioux Center, Orange City, and Sioux County; this collaborative effort caught the attention of the Federal Aviation Administration and the Iowa Department of Transportation.
Schiebout says despite wet weather delays, he hopes the airport will open by late November.