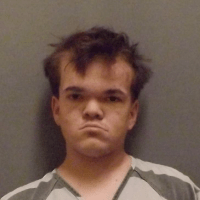 TWO IRETON TEENS HAVE BEEN ARRESTED FOLLOWING AN INVESTIGATION OF VANDALISM TO THE IRETON GUN CLUB WEST OF IRETON. INVESTIGATORS FOUND THAT SEVERAL WINDOW'SF IN THE BUILDING HAD BEEN SHOT OUT BY A BB GUN. THE PROPERTY SUSTAINED APPROXIMATELY $2,650 IN DAMAGE. 19 YEAR OLD BLAKE WESCOTT RIEPEMA OF IRETON, AND A 17 YEAR OLD MALE FROM IRETON WERE ARRESTED AND CHARGED WITH CRIMINAL MISCHIEF. THE 17 YEAR OLD WAS CITED INTO JUVENILE COURT.
THE TWO ALSO WERE CHARGED SUNDAY, JAN. 7, WITH CRIMINAL MISCHIEF IN CONNECTION TO VANDALISM TO A 2007 CHEVROLET SILVERADO PICKUP AT A PARKING AREA AT THE INTERSECTION OF EAGLE AVENUE AND HIGHWAY 10, TWO MILES NORTH OF IRETON ON THURSDAY, JAN. 4, AND A 1981 CHEVROLET PICKUP NEAR THE INTERSECTION OF 490TH STREET AND EAGLE AVENUE, THREE MILES SOUTH OF IRETON SOMETIME OVERNIGHT JAN. 2-3.
BB's DESTROYED THE DRIVER'S SIDE WINDOW AND CHIPPED PAINT ON THE DRIVER'S SIDE DOOR OF THE 2007 CHEVY PICKUP.
FOUR TIRES WERE DESTROYED ON A 1981 CHEVY PICKUP BY CUTTING THEM WITH A SHARP OBJECT. THE DRIVER'S SIDE WINDOW, WINDSHIELD AND HEADLIGHTS WERE BROKEN AND THE PASSENGER SIDE DOOR OF THE VEHICLE WAS DENTED.