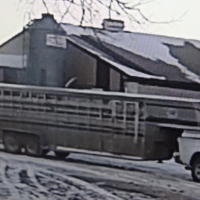 THE SIOUX COUNTY SHERIFF'S OFFICE IS INVESTIGATING A THEFT THAT OCCURRED FROM A FARM PROPERTY THREE AND-A-HALF MILES NORTHEAST OF SIOUX CENTER. THE SHERIFF'S OFFICE DISCOVERED THAT ON MONDAY, JANUARY 8th, TWO PEOPLE CAME INTO THE VICTIM'S RESIDENCE TO PURCHASE A CATTLE TRAILER. ONE OF THE SUSPECTS IDENTIFIED HIMSELF AS DICK WOLFS OF LOGAN IOWA. THE SUSPECT GAVE THE VICTIM A CHECK FOR 6-THOUSAND-DOLLARS AND TOOK THE TRAILER. IT WAS LATER REVEALED THAT THE CECK WAS COUNTERFEIT, AND THE NAME DICK WOLFS WAS A FALSE NAME. THE SUSPECTS WERE DRIVING A BLACK OR DARK BLUE, FOUR-DOOR DODGE PICKUP WITH DUAL REAR WHEELS AND NO LICENSE PLATES.
THE STOLEN LIVESTOCK TRAILER IS A HILLSBORO ALUMINUM 24 FOOT CATTLE TRAILER WITH BLUE PIN STRIPES ON THE SIDE WITH A LARGE SCRATCH AND DENT ON THE RIGHT SIDE.
ANYONE WHO MAY HAVE SEEN THE PICKUP AND TRAILER ARE ASKED TO CONTACT THE SIOUX COUNTY SHERIFF'S OFFICE.