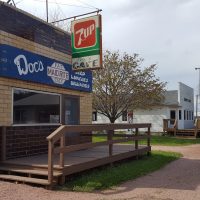 It was a difficult decision, one the Heritage Village Board examined for several months. Age has a way of taking a toll in ways we would rather not face, but need to – so now, the iconic building known as Doc's Cafe is facing demolition. Time had it's way with this structure, Heritage Board President Larry Te Grotenhuis says that Doc's deteriorated past the point of repair so quickly, it took the Board by surprise. He says the Board looked for plans to salvage the structure, but couldn't find a responsible means to make it work. The decision was then made to have Doc's Cafe taken down.
As a group dedicated to the preservation of local history, the Heritage Village Board struggled with the decision, but is determined to maintain the memory of Doc's. As for the contents of the building, they will be preserved and used again; the plan at this point according to Te Grotenhuis, is to rebuild Doc's, and get is as close to what the people of the community remember.
Doc's Cafe started out in what is known as "Old Town", now highway 75 and 9th St. Te Grotenhuis says it moved to "New Town" and became a family restaurant, but soon turned into a pool hall where service included beer. Docs moved again in 1991, this time to Heritage Village to make room for the construction of the Center Mall.
The Heritage Village Board is an advisory board to the Sioux Center City Council, whose purpose is to maintain, operate, and plan for the use of Heritage Village. Annual activities at Heritage Village include the Great Rhubarb Challenge during the Sioux County Youth Fair, and the Harvest Festival each September that brings nearly1,000 school children from around the area to watch demonstrations and get a glimpse of what life was like during the Pioneer Days. Heritage Village is open to the public and buildings may be rented for gatherings.
Demolition of the building is scheduled for this month.