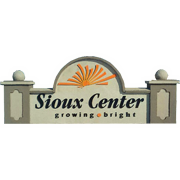 The City of Sioux Center property tax rate will be dropping by about 2.2 percent.
The Sioux Center City Council approved the lower tax levy rate, $11.54 per taxable $1,000, as part of approving the 2018-19 city budget this week. Last year, the rate was $11.80 per taxable thousand.
The city's tax rate continues to rank among the lowest in Iowa communities similar in size and valuation to Sioux Center.
"We have new growth here and property values that continue to be strong, which allows us to keep our levy rate lower than other communities like ours," said City Finance Director Darryl Ten Pas.
The city's 2018-19 budget includes park improvements including new parking and bathrooms at Children's park, construction of the new outdoor aquatic center at the All Seasons Center, ongoing Highway 75 improvements planning, a fire truck upgrade, and some final bond payments.
The city's tax rate is only about 35 percent of property owners' total property taxes. The remaining 65 percent of is for taxes levied by the county, local school and Northwest Iowa Community College.