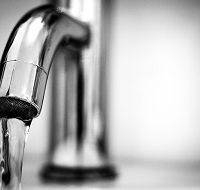 The Sioux Center City Council passed a five percent water rate increase at their regular meeting Wednesday afternoon.
Citing the need for recent planned improvements to help the water system best serve local residents, businesses, and industries, as one reason for the increase, Sioux Center Utility Manager Murray Hulstein says the increase will will also help cover inflation in operation and maintenance expenses.
Water bills are made up of a monthly service charge and per-gallon usage rate. With the increase that starts in June, the residential monthly service charge will increase by 74 cents; the residential usage rate will increase by about 19 cents per 1,000 gallons.
Some of the improvements include a new deep well, a low-head dam to increase supply, pipe in new subdivisions and new pipe to replace older sections of pipe, as well as on-going preventative maintenance.
Future projects for the Sioux Center Water Department include planning for a new water tower in the south part of Sioux Center, and continued work to connect with the Lewis & Clark Regional Water System.
The last water rate increase for Sioux Center Municipal Utilities customers was a 4 percent increase in 2014.