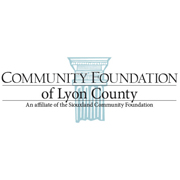 The Community Foundation of Lyon County (CFLC), an affiliate of the Siouxland Community Foundation, recently awarded six grants totaling $24,000 to nonprofit organizations in support of projects and programs throughout Lyon County. The dollars granted and distributed are made possible from the annual distribution from the Community Foundation of Lyon County's Endowment Fund.
"The Community Foundation of Lyon County is pleased to support the services of organizations that positively impact the quality of life in Lyon County," stated Shayne Mayer, CFLC Advisory Board Chair.
The CFLC was formally established in 2005 through affiliation with the Siouxland Community Foundation and is governed by a local nine-member advisory board composed of representatives, with one at-large member, from each of the eight communities in Lyon County; Alvord, Doon, George, Inwood, Larchwood, Lester, Little Rock, and Rock Rapids.
The mission of the Community Foundation of Lyon County is to enhance the overall quality of life in the county for present and future generations by providing opportunities for donors to leave a legacy, by building a permanent collection of endowment funds, and by making grants in response to priority community needs.
The following are recently awarded grants from the CFLC:
Fellowship Village Community Integration $6,000.00
Granite Threshermens Association Inc Train Depot Restoration $6,000.00
Inwood Trails Committee Bike and Walking Trail $6,000.00
Kingdom Kids Community Daycare Update Needed Storage $1,000.00
Merrill Pioneer Community Hospital New clinic & hospital $2,000.00
Rapids Theatre Preservation Society, Inc. North and West Tuck Pointing $3,000.00