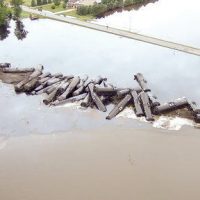 BNSF Railway today revised the amount of crude oil that spilled into floodwaters near Doon and the Little Rock River.
Of the 32 tanker cars that left the tracks on June 22, follow-up inspections found 10 leaked about 165,000 gallons of heavy crude, BNSF spokesman Andy Williams said. That's down from the railroad's initial estimate of 14 compromised tankers leaking about 236,000 gallons.
The original estimate was based on visual inspections of the derailed cars, Williams said. Since then, officials have had a chance to clean the tankers and more closely inspect them, he said.
Most of the spill was contained to a small triangular area between the tracks and two roads, Garfield Avenue and 270th St., about a 1 mile south of Doon. The floodwaters washed some oil through farm fields into the Little Rock River, a tributary of the larger Rock River
.To contain the spill, BNSF set up 8,000 feet of booms that extended five miles down the flood plain.
Williams says they don't believe the oil went that far, stating that there was an overabundance of caution and that most of the oil stayed in the triangular area.
Some crude reached nearby Rock Valley as residents there sandbagged to protect homes and businesses from the swollen Rock River. As a precaution, the city shut off its municipal wells after the spill. The Iowa Department of Natural Resources then tested the city's water supply and found no contamination.  The wells were turned back on after the city got the all-clear notice from the DNR about three days after the spill.
BNSF continues to clean up the site under oversight of the EPA and Iowa Department of Natural Resources, said Ben Washburn, a public affairs specialist in the EPA's Region 7 office in Kansas City, Kansas. Separators are being used to skim the oil from the standing water. The cleanup also includes removing crude from nearby corn fields.
Washburn says the corn fields acted as a natural net that suspended the oil on the leaves of the corn.  More than 300 workers initially were deployed and worked around the clock for an extended period. About 100 officials, mostly environmental specialists and contractors, remain at the site. Over the weekend, the county reopened Garfield Avenue, a paved county road, to through traffic.
The damaged track, likely weakened by the floodwaters, has been replaced and trains resumed just four days after the derailment.
The remaining crude has been removed from the derailed tankers and they have been moved to a nearby field. A berm has been built around the stacked cars to keep any additional leaking oil from entering the flood plain, Williams said.
The 110-unit train was moving about 58,000 barrels of crude from western Canada to Stroud, Oklahoma for ConocoPhillips, according to the oil producer.
(Credit: Sioux City Journal)