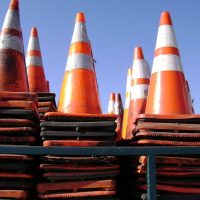 The Story Street Reconstruction Project is scheduled to start during the week of August
13th, 2018. The project involves removal and replacement of street, sidewalk, street lighting and
underground infrastructure on two blocks of Story Street, from Main Street to South 3rd
Avenue.
Work will begin with removal of street and sidewalk in the first block, from Main to
South 2nd Avenue. Work on the 2nd block, from 2nd to 3rd Avenue, will start about two to three
weeks later. Paving is tentatively scheduled to start in mid‐September.
All sidewalks in the project area will be replaced except for the one along Courthouse
property. In order to minimize the amount of time during which storefronts will be not
accessible, the contractor will remove the sidewalks in two parts. The outer part, that adjoins
the street, will be removed first to allow for street and underground work. The inner part, that
adjoins the buildings, will remain in place as long as possible and be removed only after paving
of street, curb and gutter. Most businesses also allow for access to rear of building.
Because this project includes replacement of water mains, each property will incur a
temporary disruption of water service during disconnect from old service and reconnect to
new. In order to minimize the inconvenience to affected water customers, the contractor will
try to schedule the change of service to occur during periods of low water usage.
Vander Pol Excavating of Orange City is the general contractor for the entire project.
Work schedule runs from 7:00 AM to 6:00 PM five days per week. Scheduled completion date is
October 15, 2018. Questions or concerns about this project are to be directed to the City Office
at 472‐2553 or city@rockrapids.net.