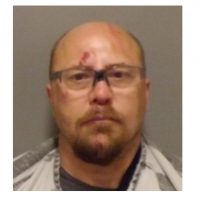 A Hospers man received injuries in a motorcycle crash early Sunday evening.  The accident occurred about four miles southwest of Sheldon around 5pm.
49-year old Joel Griffith was driving south on Lily Ave. when he struck a low-hanging, storm damaged power line suspended across the roadway.  Officials say that portion of Lily Avenue was barricaded and closed for electrical power line repairs when the crash happened.
Griffith was transported to the Sanford Sheldon Medical Center for treatment of his injuries.
Damage to Griffith's 1979 Kawasaki Motorcycle motorcycle was estimated at $1-thousand.
Early Monday morning, Sioux County deputies arrested Griffith on charges of Operating a Motor Vehicle With a Revoked Driver's License. Deputies say they believe alcohol was a factor in Sunday evening's crash, which remains under investigation.
Sioux County deputies were assisted by the O'Brien County Sheriff's Office, Sheldon Fire Department, and Sheldon Community Ambulance Team.