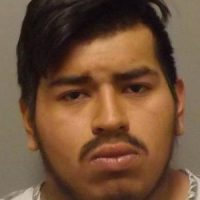 A Sioux Center man has been arrested on suspicion of sexually abusing a child.
19-year-old Edgar Francisco Diego was taken into custody Tuesday by members of the Sioux Center Police Department.  Diego is alleged to have sexually abused a 12-year-old child at his residence in Sioux Center; the child does not live at Diego's residence, but resides elsewhere in Sioux Center.
Diego was also arrested on suspicion of possession of marijuana, a controlled substance, and drug paraphernalia.  Diego is a 2017 graduate of Sioux Center High School, and faces the possibility of  up to ten years imprisonment and over $10,000 in fines for all three charges.  Diego is being held at the Sioux County Jail in Orange City. In addition, U.S. Immigration and Customs Enforcement — ICE — has issued a hold on the Mexico native.