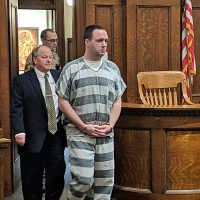 Former Sioux Center Christian School teacher Curtis Van Dam learned his fate Friday in Sioux County District Court in Orange City.  Van Dam had been charged with 146 counts of inappropriate sexual contact with several of his male students over the course of a year.  Federal charges were also brought against him for secretly filming young boys showering in a locker room, that trial took place last summer where he agreed to plead guilty to one charge, while one was dropped.
More than a year has passed since the October 2017 arrest of Van Dam, and after several hearings, meetings, and motions, he again agreed to plead guilty to seven state charges last month.  Friday, Judge Steven Andreason handed down his sentences, some of which will run concurrently, some consecutively.
Nineteen Victim Impact statements were read at the hearing this morning, Van Dam showed no emotion or remorse as they were read, and the judge noted the same throughout the trial.  Sioux County Prosecuting Attorney Thomas Kunstle is pleased with the sentence.
The impact of Van Dam's actions go deep, and goes beyond just the victims.  Sioux Center Christian School Head of School Josh Bowar is thankful that this part of the story, the legal proceedings, is over so that they can continue to focus on healing.  He says since last fall, Sioux Center Christian School has been reviewing policy and protocol and putting things in place to continue to provide for as much safety as possible for students.  He says the school continues to depend on God's strength and power.  He says they have worked hard to overcome the devastation this has caused in the lives of the victims, other students, faculty, and administration; the community has responded with support.  As he has stated throughout the trial, the kids are their primary focus.
Van Dam will serve his Federal Prison sentence first, then his 60 year state sentence begins with credit for time already served.  Van Dam may be eligible for parole in approximately 32 years.