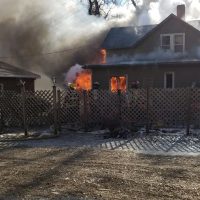 Fire destroyed a rural Doon home Thursday.  The Doon Fire Department was paged shortly after 12pm to a report of a house fire about three miles west of Doon. Firefighters arrived at about 12:09 p.m.
Officials say no one was in the home at the time of the fire which was thought to have started in the basement, spreading quickly throughout the one-and-a-half-story home.
Several farm structures near the house were not harmed.
An excavator was brought to the scene to tear the house down while firefighters extinguished the flames.  About 40 emergency personnel from Rock Valley, Hull, Inwood and Alvord helped Doon firefighters battle the blaze for nearly 4 1/2 hours.