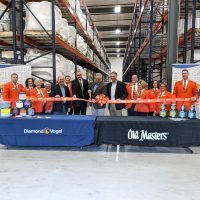 Old Masters, a division of Diamond Vogel in Orange City celebrated a ribbon cutting Wednesday morning for a warehouse expansion project that doubles their existing space.  The Orange City company has been in business for 93 years in Orange City, and Chairman of the Board, Drew Vogel says that means a lot to him.
Jeff Powell, President of Diamond Vogel, says the company is strong and has a bright future.  Vogel attributes the company's 93 year success to the most basic need people have – relationships.  He has nothing but praise for the employee teams at Diamond Vogel and Old Masters, saying the expansion is evidence of their hard work and commitment to make the company strong.
Powell and Vogel have known each other for a long time, but Vogel never thought they would be working together.  Powell joined the company about three years ago and became President not long after.  Vogel says Powell is a great fit for the company, and with him in leadership, the future looks bright for both companies.
Future expansion is already being planned in the next five years.