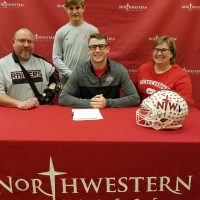 Isaiah Gilmore (Sioux City, Iowa) has signed a letter of intent to continue his football and wrestling careers at Northwestern College next fall.
Gilmore is a 5'9", 170-pound defensive back and long snapper who played three years for the Bishop Heelan High School football team. Gilmore helped lead the Crusaders to a 7-2 record last fall. An honor roll student, Gilmore plans to major in elementary education at Northwestern.
"We are thrilled to have Isaiah join our Red Raider football team," said Northwestern Head Coach Matt McCarty. "He has been coached well and played for a very good program at Heelan. Isaiah is a solid player who will be a good teammate and provide depth to our team."
A four-year letter winner in wrestling, Gilmore accumulated 99 career wins at Heelan, going 24-8 his senior year. Gilmore has also earned three letters in soccer for the Crusaders and is the son of David and Carrie.
"We are excited to get Isaiah on board," said Northwestern Head Wrestling Coach Rik Dahl. "Isaiah has a passion and enthusiasm for wrestling and we know he will come and pick up the intensity in the room."