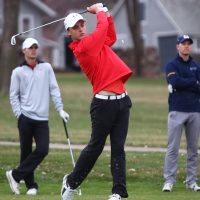 Caleb Badura was named the GPAC Player of the Year and headlines the 2018-19 Men's Golf All-Conference team as announced by the league officer earlier today. Badura is one of three Red Raiders to receive postseason recognition, joining Austin Reitz and Isaac Knock.
Badura won the 72-hole GPAC Championship with a two-under 282 (69/69/69/75), the only golfer to finish under par. The freshman won by five strokes and is the eighth Northwestern player to win the conference title in program history. (Prevous Red Raiders who won conference title are listed below)
Justin Kraft – 2018
Justin Kraft – 2015
Neil Malenke – 2013
Luke Vermeer – 2010
Luke Vermeer – 2008
Dan Laaveg – 2006
Joel Schwatz – 1998
Badura has a team-best scoring average of 73.3, second lowest in program history, and won two events, GPAC and Morningside Fall. He has five top 10 finishes this season and earned a spot in the NAIA National Championship to be played May 21-24 at the Las Sendas Golf Club in Mesa, Ariz.
Reitz earned all-conference honors for the third straight year and first team accolades for the second time. Reitz had a 74.2 scoring average this season, fourth lowest in program history. The senior was medalist at the Eagle Spring Classic and finished among the top 10 in six meets. Reitz closes his career with a 76 scoring average, seventh best all-time.
Knock claims the postseason honor for the first time after tying for 14th place at the GPAC Championship. The sophomore finished third on the team with a 74.9 scoring average, placing in the top 10 in four events.
Northwestern finished second in the 72-hole GPAC Championship and has been ranked in the top 25 all season.