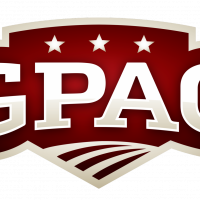 (Sioux City, Iowa) – The 2018-19 Great Plains Athletic Conference (GPAC) athletic season is complete and with 177.5 points Morningside is the GPAC All-Sports Champion. All 21 sports for the year have been totaled.
The GPAC All-Sports Trophy, a traveling trophy, is awarded annually to the school that finishes first in the final All-Sports standings. Points are awarded on a decreasing scale based on the finish in each of the GPAC's 21 championship sports based on either final regular season standings or the results in conference championship meets.
Northwestern College finished third in the 2018-19 Great Plains Athletic Conference (GPAC) All-Sports Trophy standings announced by the league office earlier this afternoon. Red Raider teams accounted for 174 total points after all 21 GPAC sports were complete, finishing third out of 12 teams. Northwestern finished behind all-sports champion Morningside (177.5 points) and were edged by Concordia (174.5).
Red Raider women's teams totaled 95.5 points, second only to Concordia with 99. Both Hastings and Morningside were a close third at 95 points. Northwestern captured its lone GPAC regular season title in women's basketball. Northwestern men's teams scored 78.5 points, second most to Morningside (82.5). Concordia men's teams were third (75.5), followed by Doane (72).
GPAC 2018-19 All-Sports Standings
1. Morningside 177.5
2. Concordia 174.5
3. Northwestern 174
4. Midland 154.5
5. Hastings 150.5
6. Doane 138
7. Dordt 126.5
8. Jamestown 107.5
9. Briar Cliff 90.5
10. Dakota Wesleyan 87.5
11. Mount Marty 68.5
12. College of Saint Mary 39.5