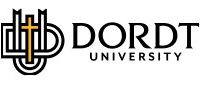 As of Monday, May 13, Dordt College is now officially known as Dordt University.
Updates to reflect the name change will take place this summer, including changes to gateway signage and the football field turf. The Dordt University logo will also be implemented campus-wide, replacing the Dordt College logo.
Brandon Huisman, vice president of enrollment and marketing at Dordt, says the name "Dordt University" fits Dordt's mission, highlighting the excellence of its academic programs, and emphasizes its global footprint.
Dordt University President Erik Hoekstra says the name best describes who the university is and who the university is becoming.  He says years of success have brought the institution to where it is today, and it now looks and acts more like a university rather than a college.
Dr. Richard Mouw, president emeritus of Fuller Seminary, and one of Dordt's Board of Trustees members, says that in many countries, the word 'college' refers to 'high school,' so some students overlook Dordt as an option for postsecondary education.  He says potential graduate students search for universities, and he says they want graduate and international students to see Dordt as an engaging, challenging place to learn."
Dr. Mark Christians, psychology professor and faculty chair, says that the university initiative will help faculty expand their research efforts while continuing to focus on student learning, adding they will continue to engage with students in their quality teaching and research.
Christians says, "Faculty are committed to carrying out the mission and vision in order to equip students to work for Christ-centered renewal in all of areas of life in God's kingdom."
In addition to a diverse array of more traditional undergraduate programs, Dordt's academic offerings include online studies, graduate programs, and professional-technical associate degrees. Dordt alumni live all over the world, and current students come from more than 26 countries.