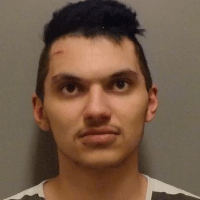 An officer following up on an accident that occurred May 7 one-half mile west of Boyden on Highway 18 arrested a Rock Valley man.  A Sioux County deputy sheriff went to 18-year-old Benjamin Van Otterloo's residence May 9 to take him into custody on charges resulting from the accident, but Van Otterloo became combative and resisted the arrest.  He was arrested and was booked into jail.
The accident referred to had Van Otterloo driving a Chevrolet Silverado westbound on highway 18, he crossed the center of the roadway and sideswiped an eastbound Chevrolet Trailblazer driven by 18-year-old Tiffani Bergstrom of Primghar.  Both drivers sustained injuries and required treatment for minor injuries.
Van Otterloo is charged with interference with official acts, operating a motor vehicle without the owner's consent, driving a motor vehicle with a suspended driver's license, and driving on the wrong side of a two-way highway.  The sheriff's office was assisted by the Rock Valley Police Department.
Van Otterloo was released on a $2,000 bond.